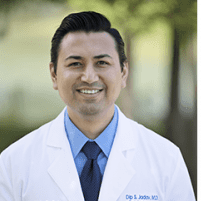 Outlook Eye & Laser Center
Cataract & Refractive Surgeon & Ophthalmologist located in Sugar Land, TX
Dr. Dip Jadav always appreciates feedback from his valued patients. To date, we're thrilled to have collected 175 reviews with an average rating of 4.9 out of 5 stars. Please read what others are saying about Dr. Dip Jadav below, and as always, we would love to collect your feedback.
Andy R.
I cannot recommend Dr. Jadav more. He is a kind and compassionate ophthalmologist with a great bedside manner. He takes time with his patients and clearly explains everything. His staff is wonderful and do everything they can to make your visit as pleasant as possible.
Vanessa M.
Dr Jadav is a great doctor
Amin M.
Dr. Jadaw is one of the good eye surgeon with experience, professional and well detailed Test. with good staff. we will continuous visit for our family and recommend to family friends for any eye treatment. Thank you,
Geeta P.
Very good Well come at desk. Well Detailed TEST and Very good check up by Dr. Dip Jadav and explained facts. We would again visit for our families and also recommend for Eye treatments.
Yathindra R.
Great experience. staff and doctor were friendly. Advised me on exactly what I needed and did not oversell on anything else.
Amin S.
Courteous and professional
Catherine H.
Excellent and the staff as well
Paula C.
The office is, professional, cordial,and I am seen promptly. Dr. Jadav never seems in a hurry; I have his attention during the appointment.
Wanda E.
Great bedside manner! Explains everything in plain terms.
Juan L.
Very grateful for the excellent service provided to me from begginig to the end, Love Dr. Jadav
Carole M B.
Found examination process to be very thorough and staff very professional. Dr. Jadav was knowledgeable and offered immediate solutions.
Juanito E.
Great customer service from all workers.
Gloria C.
I love Dr. Jadav! He is caring, listens to your concerns and thorough. I would have given him 5 stars except for "some" of his staff – not all. The majority is caring and mindful of your comfort. But Dr. Jadav gets 5 stars! I truly recommend him.
Aracely V.
He's great! very knowledgeable, nice, he listens all your concerns. Best ophthalmologists ever!
NARENDRA P.
Dr Dip was very friendly and through in examination
Fauzia H.
Smooth, fast, professional